Ian Purtel Restaurant Director and Sommelier
I am proud to name person of the year 2015 : 
Ian Purtel
for being such a sparkling 
Sommelier and a fantastic ambassador for
Cellier Domesticus
technology as well as
Gabriel-Glas
.
He is the director of the only
6 sommeliers
team east of Canada and collaborates with the talented Chef 
Jean-Francois Methot
. We first met in Decembre 2014 at his restaurant
le Coureur des Bois Bistro Culinaire
, with 13 000 bottles of the finest wines. It was logical for them to secure their wine cellar with Cellier Domesticus technology.
Of course you can find there any vintage of Petrus or exclusive Ruinart, but the finest wines are well paired with the food. Pairing wine and food is here done with excellence not only because of an impressive wine list and a fine selection of local food, but the complicity of Ian and Jean-Francois makes the sommelier team and the kitchen team work in true harmony. This melody ends in your plate and in your glass providing a unique experience. A good showcase of this talent is definitely last month
 Banquet Ruinart
So in December 2015 he naturally helped me with a Champagne communication as Le Coureur des Bois is Ruinart Brand Ambassador.
We did quite well with more than 6000 views in a week with this tweet alone :
//platform.twitter.com/widgets.js
I truly admire Ian for his professionalism and the way he can connect with the finest people in the wine world. His wine cellar is visited by the best winemakers of the world and even Robert Parker this year paid a visit! Ian is far from being snobbish and always wishes to please EVERY customer. I predict for him a great year 2016 and he will surely upgrade his Best of Award to a Grand Award from WineSpectator.
There are many amateurs in the wine business but,
Ian acts and plays like a Pro!
2015 was also marked by important people in my life of entrepreneur and for Cellier Domesticus :
Thank you Claudine and Stephen Bronfman for naming me Emerging Entrepreneur of the year in 2015, for my contribution to Quebec Economy.  My C2Montreal experience was unique from the preparation cocktail at SidLee with medias (video) to the C2MTL ending party drinking Champagne in the VIP corner. But most of all I was really overwhelmed by their generosity and how available they were for every of the 25 winners. For that I name them the most important contribution to my startup.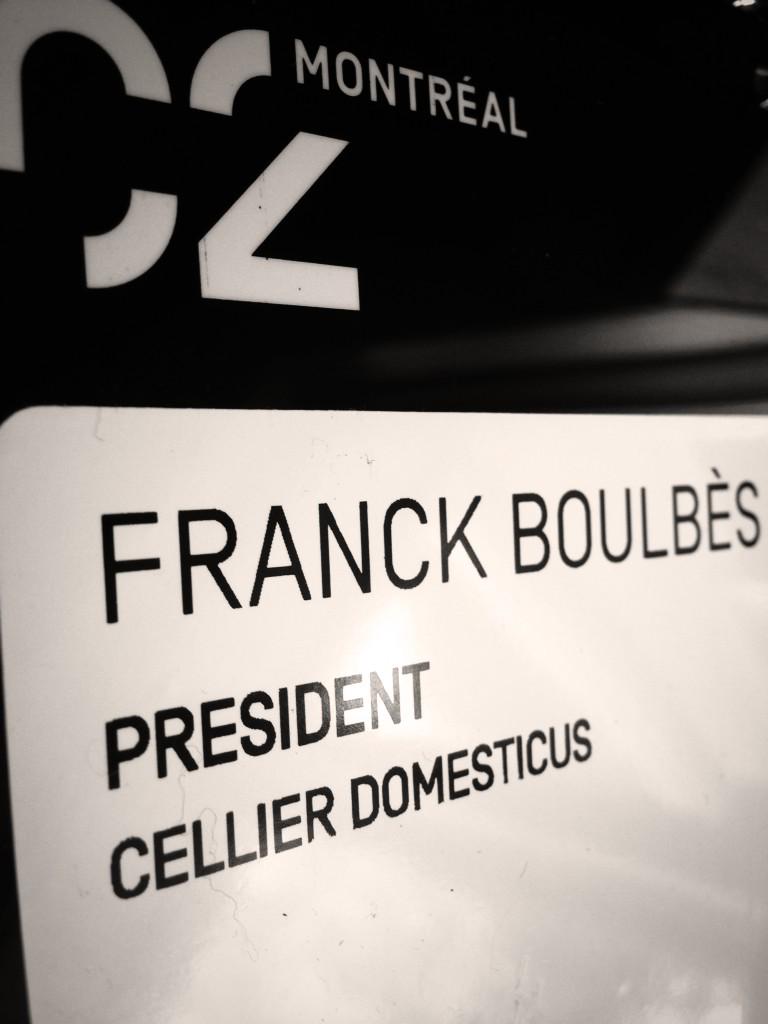 Two unforgettable moments were two private sessions with Chelsea Clinton and Rangu Salgame from Tata Communication. But even the first conference of David Rose about enchanted objects was also very inspiring right from the opening of #C2MTL.
The 24 emerging entrepreneurs, Chelsea Clinton, Claudine and Stephen Bronfman and ME!
Rangu Salgame from Tata Communication
Second year in a row I must thank La Fondation Montreal inc for it's unconditional help & support.


Probably one of the most exciting
Trip of the year 
was 
@BonAppetech
for 
#33entrepreneurs
startup contest in 
San Francisco.
 The #goodfoodinnovation conference was focusing on Food and Beverage industry. It was good food for the brain and an incredible insight on the future of wine industry. An inspiring moment and visiting Napa was also not bad 😉
We are in love with you California and the Bay. We'll be back in 2016.
— Florian Mesny (@fmesny) 3 Octobre 2015
//platform.twitter.com/widgets.js

Here is the review of our viral tweeter sparkling campaign to close 2015:

Don't forget your #resolutions2016 🙂



This tweet below received the best score with 8000 views in 48h, as we promote natural aging for wine, our marketing is 100% organic with no paid views :
— Cellier Domesticus (@AngeGardienVin) 31 Décembre 2015
— Cellier Domesticus (@AngeGardienVin) 31 Décembre 2015
— Cellier Domesticus (@AngeGardienVin) 30 Décembre 2015
//platform.twitter.com/widgets.js I wish you an Happy New Year 2016,
Bubbly cheers!
Santé,